The Town of Kenly Department of Parks & Recreation strives to provide facilities and programs necessary for the positive development and well-being of our community. Through the provision of parks, open space and excellent recreational facilities, our goal is to maximize all available resources to make a positive difference in the lives of the citizens of Kenly. We take pride in a strong history of offering fun, well-managed, recreational opportunities.
-Sheldon Bradberry, Director of Parks & Recreation (919) 588-5090
Parks
Grady Park is conveniently located on East Second Street in a historic residential neighborhood. The park offers playground equipment and a sheltered picnic area. Named in honor of Dr. J.C. Grady, community residents have enjoyed the amenities and scenic location of this park since 1976. The Town of Kenly is also committed to providing a quality park facility for our citizens on our property along Lincoln Drive.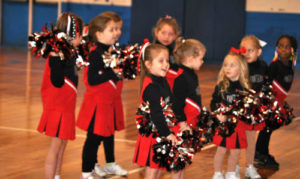 Athletics
Kenly Parks & Recreation offers year-round athletic programming for youth and adults. The following program options are available annually on a seasonal basis:

 Basketball, Volleyball
, Tee Ball, Baseball, Softball
 & Cheerleading
Registration forms can be found here.
Facilities
The majority of our recreation activities are based at our Kenly Area Parks And Recreation Center (KAPARC) on College Avenue. This facility includes four ball fields, a soccer complex, two batting cages, and a half-mile paved walking trail. The entire facility is lighted to accommodate evening activities. We also have a recently restored historic gym that our kids and church leagues keep busy in the winter. During the summer months, the baseball fields at KAPARC are the host sites for various postseason tournaments such as the Johnston County Cal Ripken Sr. Division Tournament, the Babe Ruth District Three Girls Softball Tournament, and the Babe Ruth 13 Prep North Carolina State Tournament. The park is home to 14 teams in Spring Sports.
Parks and Recreation Center
The Kenly Parks and Recreation Center will provide for our future programming. This facility will accommodate meetings, hold non-athletic programming, and serve as a town-operated senior center.